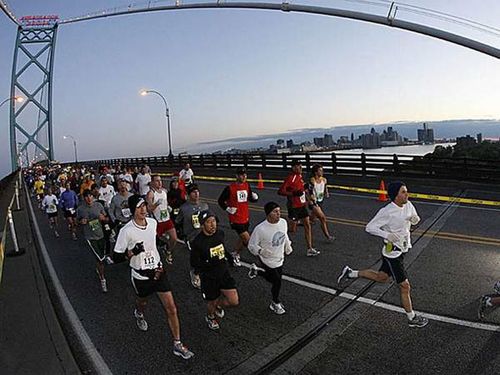 If you are a runner, running enthusiast, or love to cheer people on, get down to the Detroit Free Press/Talmer Bank Marathon! This event draws thousands into Detroit and Windsor. The race crosses international borders with an "underwater mile" through the Detroit-Windsor Tunnel and heads back across the Ambassador Bridge. It hits several neighborhoods in Detroit, and has entertainment stations along the way! See the it all as a runner, or pick your favorite neighborhood to cheer from. If you aren't ready for a full marathon, there are several other options, including a 5K, half-marathon, and relay. Become a champion at the Detroit Free Press/Talmer Bank Marathon!
This is a great event to attend because there are many likeminded people joining together in the beauty of sports. You can rest your bones afterwards in a limousine or party bus to take you throughout Detroit! A limousine or party bus is a great mode of transportation for these events because you won't have to deal with the prospect of heavy traffic, walking to the event, or getting your group together. It's simply easier with a professional mode of transportation!
When you have a deluxe mode of transportation, your worries will be small. All that will be on your mind is how comfortable and accommodating your limousine or party bus is! You'll be able to enjoy lovely multicolored lighting, loud sound systems with MP3 and iPod compatibilities, large televisions screens with DVD and Blue Ray inputs, bar areas complete with coolers and ice, hardwood flooring, tinted windows for privacy, and more!