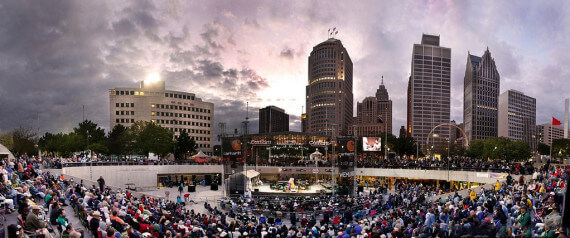 The Detroit Jazz Festival is a jazz enthusiast's paradise! Held on Labor Day weekend, the Detroit Jazz Festival encompasses several blocks downtown, going from Hart Plaza to Campus Martius. Jazz bands and musicians play on several stages all weekend long, along with several other family-friendly entertainment options, food and drink, and more! Enjoy the culture of Detroit and hear some of the best jazz musicians in the world! The Detroit Jazz Festival is definitely something to put on our bucket list!
If you're looking to experience Detroit in the best way possible, the Detroit Jazz Festival is certainly a great place to start. It combines all of the great things about Detroit, amazing people, good music, and great food. There's no better way to enhance your experience at the Detroit Jazz Festival than with a professional mode of transportation such as a limousine or a party bus.
A limousine or a party bus is great because you'll be able to enjoy drinks and dancing without finding a designated driver or waving down a smelly cab. Instead of driving yourself, a professional chauffeur will be able to take you to wherever it is you need to go with a smile. There are amazing features to be enjoyed while you tour the city. Book your limousine or party bus today!